Today is Superhero Day! What better way to celebrate than with Jenn and Vic's superhero themed wedding at Celebrations at the Bay in Pasadena Maryland!
Jenn also shares some tips on planning their wedding.
What will you remember most about your wedding day?
I will remember laughing my face off at the alter with Vic; drinking glass after glass of champagne with my sisters and the other strong and beautiful women in my life; dancing with my father; watching my mother exude radiance, joy and grace as she twirled in her fabulous dress; crying and laughing at each of the amazing and poignant speeches our dearest loved ones made; seeing smiling faces of friends and family; and feeling utterly humbled by how much love we received throughout the day.
Favorite wedding photo and why:
The one of me laughing at the alter with Vic, looking out to the crowd, while Vic is laughing and looking at me. I love it because I feel like it perfectly encapsules the giddiness we were feeling, and how Robin somehow captured a moment that felt both intimate and open.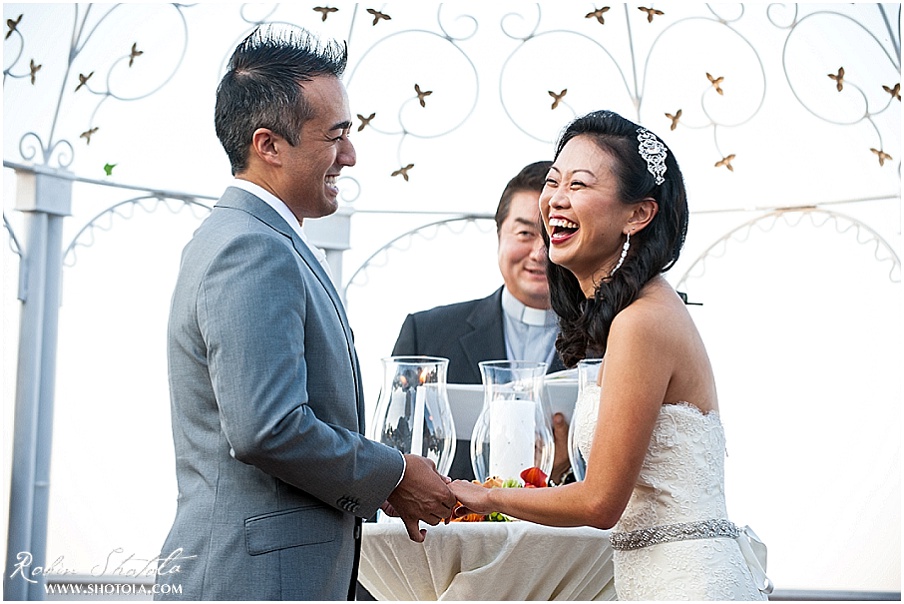 Most stressful thing about planning your wedding?
Wanting to consider the opinions and vision of those who love ad support us, while still maintaining our own style and voice for the wedding.
Most enjoyable thing about planning your wedding?
Communicating every day with Vic, making countless decisions together, and learning more about each other and what we value in the process!
If you were able to do it all over again, would you do anything differently?
Nope!
Any words of wisdom for brides/grooms who are currently planning their day?
Laugh! Everyone is there because they love you both and are rooting for you. It's the best feeling EVER.
Wedding location:
Celebrations at the Bay in Pasadena, MD.
Theme or style: Superhero! We love comics, superheroes, and all things geek. We had so much fun planning our tables and assigning our friends and family to a superhero.
Bridal Shop: Nordstrom Bridal Suite in Tyson Corner, VA.
Dress Designer: Caroline De Villo
Bride's shoes: Jimmy Choo!
Hair stylist or salon: Color F/X in Ellicot City
Wedding favours: We gave out framed superhero name tags for our guests!
Invitations & Stationery: We used Wedding Paper Divas for our Save the Dates, invitations, and programs.
Florist: Teresa from Floral Impressions was amazing!
Officiant: Rev. Sung H. Ahn from Korean Community United Methodist Church in Englewood, NJ.
Cake: Touche Touche Bakery in Columbia, MD
DJ: DJ As-One from Scratch Weddings
Transportation: An Extraordinar Limosousine, Inc.
Caterer: Catering by Uptown